We are thrilled to be featuring three homes in the 2020 Parade of Homes Fall Remodelers Showcase October 2-4. Here's a sneak peek at our homes below, or check out our virtual Showcase Home tours!
Hours of the Remodelers Showcase are:
October 2:00 – 4:00 PM, Noon – 6 PM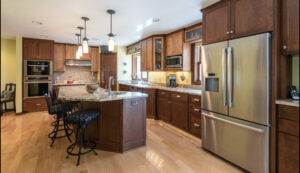 HOME DESCRIPTION: Whole-home remodel. We took this '80s two-story home and gave it an architectural influence of its own. We gutted the main level, then designed and built new KT, laundry/mudroom, hearth room, and DR. We put in new flooring, passage doors, trim, and wall treatments. The millwork is stunning here. The transformation continues on the upper level with a new owners' suite and guest bath along with more custom millwork. We completed the home with an additional garage and all-new exterior using stone, shakes, and more! Come see the transformation. All design and custom cabinetry/millwork manufactured in our shops by the team at Roberts Residential.
PROJECT TYPE: Additions, Bathroom, Exterior, Owners Suite, Whole House, Mudroom/Laundry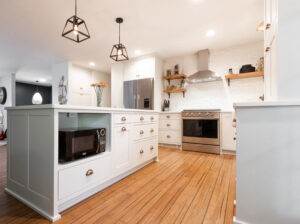 HOME DESCRIPTION: This home had a galley kitchen with a floor plan that isolated the family room, kitchen, and dining room. We removed partition walls to create an open floor plan. We designed, built, and painted kitchen cabinets in our in-house millwork shop. We updated the ceilings with a knockdown finish, installed a prefinished bamboo floor, a faux brick backsplash, and alder wood shelving at the kitchen. We also replaced their handrail system to complement the new look. Come by and see what a difference we can make by reorganizing your space and updating your finishes!
PROJECT TYPE: Great Room/Family Room, Kitchen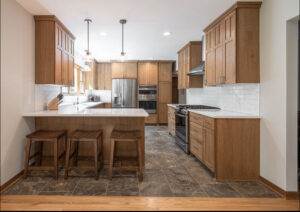 HOME DESCRIPTION: This addition was the type of project that most people want in a typical Minneapolis home. We designed and built a new mudroom and expanded the kitchen. We built a walk-through closet and added a full bathroom to create an owners' suite. Some walls were removed and others moved to create new spaces. We updated a full bath, powder bath, stairwell, and dining room. We designed and installed new custom KT cabinets that were stain finished, rift-sawn oak, and built in our in-house millwork shop. Finishes included quartz countertops, custom tile work, 3-panel interior doors, and in-home-finished oak hardwood flooring. This project is a must-see!
PROJECT TYPE: Additions, Bathroom, Kitchen, Owners Suite, Mudroom/Laundry