We are thrilled to be featuring two homes in the 2021 Parade of Homes Fall Remodelers Showcase October 1 – 3. Here's a sneak peek at our homes below. Start planning your route and we look forward to seeing you there!
Hours of the Remodelers Showcase are:
October 1 – 3, Noon – 6 PM
HOME DESCRIPTION: In this home, we remodeled the existing kitchen, a ¾ bathroom, and one full bathroom. We removed a wall between the kitchen and dining room to create a more open space. The cabinetry included new vanities, a bench seat with hooks at the rear entry, and cabinetry extending from the kitchen into the dining room. We completely updated the upper-level bathroom and expanded the shower area of the existing ¾ bathroom. Finishes include beautifully painted, flat-panel custom cabinetry that was built and finished in our in-house custom cabinet shop; Vicostone Quartz countertops, backsplash, and shower surround; oak hardwood floors; and custom trim.
PROJECT TYPE: Bathroom, Great Room/Family Room, Home Office, Kitchen, Main Level
Find out more about this home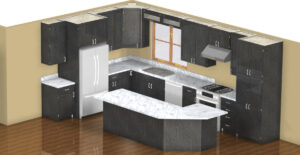 HOME DESCRIPTION: Open floor plan! Great room and kitchen! Come see the amount of light & space you can bring in when you tear down walls in this newly updated main-floor remodel, complete with custom KT cabinetry. Subtle blends of stained & painted millwork, along with quartz countertops, premium prefinished wood floors, & so much more. All profiles expertly coordinated from stair rail to passage doors to cabinet fronts! All cabinetry designed, built, & finished in our custom millwork/cabinet shop & installed by our team. Here you can see the architectural rendering but come check out the finished product! You'll love your new look with Roberts' Residential!
PROJECT TYPE: Great Room/Family Room, Kitchen, Main Level
Find out more about this home