We are thrilled to be featuring three homes in the 2022 Parade of Homes Spring Remodelers Showcase April 8 – 10. Here's a sneak peek at our homes below. Start planning your route and we look forward to seeing you there!
Hours of the Remodelers Showcase are:
April 8 – 10, Noon – 6 PM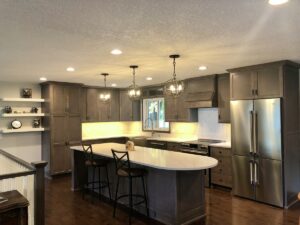 HOME DESCRIPTION: Open floor plan in the great room and kitchen! Come see the amount of light and space you can bring in when you teardown walls in this newly updated main-floor remodel, complete with custom kitchen cabinetry. Subtle blends of stained and painted millwork, along with quartz countertops, premium prefinished wood floors, and so much more. All profiles are expertly coordinated from stair rail to passage doors and cabinet fronts! All cabinetry is designed, built, and finished in our custom millwork/cabinet shop and installed by our team. You'll love your new look with Roberts Residential Remodeling, Inc.!
PROJECT TYPE: Great Room/Family Room, Kitchen, Main Level
Find out more about this home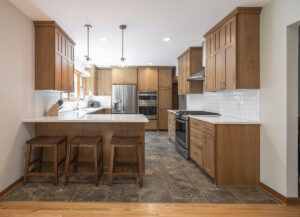 HOME DESCRIPTION: This addition was the type of project that most people want in a typical Minneapolis home. We designed and built a new mudroom and expanded the kitchen. We built a walk-through closet and added an owners' BA to create an owners' suite. We updated a full bath, powder bath, stairwell, and dining room. Some walls were removed and others moved to create new spaces. We designed and installed new custom KT cabinets that were stain finished, rift-sawn oak, and built in our in-house millwork shop. Finishes included quartz countertops, custom tile work, 3-panel interior doors, and in-home finished oak hardwood flooring. This project is a must-see!
PROJECT TYPE: Additions, Bathroom, Kitchen, Main Level, Owners Suite, Mudroom/Laundry
Find out more about this home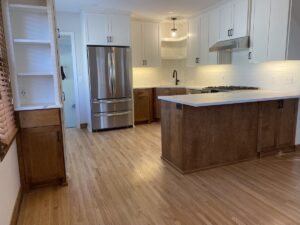 HOME DESCRIPTION: This 1942 Minneapolis home was ready for a fresh start! The client wanted to open the small kitchen and add more storage space. We reconfigured the KT by removing walls between the kitchen and dining room, and relocated the existing sink location. We designed, built, finished, and installed beautiful two-tone custom cabinetry including a peninsula featuring a large drawer stack and pull-outs in the kitchen and bench seating with large drawers for storage in the dining room. The much-needed BA update included all-new fixtures and removing an old bathtub to install a custom shower surround. All cabinetry was built in our in-house millwork shop.
PROJECT TYPE: Bathroom, Kitchen, Main Level
Find out more about this home