We are thrilled to be featuring three homes in the 2023 Parade of Homes Spring Remodelers Showcase March 31 – April 2. Here's a sneak peek at our homes below. Start planning your route and we look forward to seeing you there!
Hours of the Remodelers Showcase are:
March 31 – April 2, Noon – 6 PM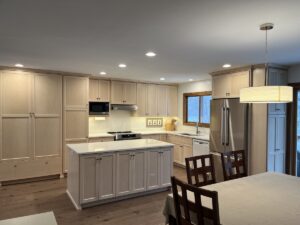 HOME DESCRIPTION: This kitchen remodel and main-floor update removed the front entryway closet and the wall between the kitchen and dining room. We also swapped a patio door that was in the kitchen with a window in the dining room. As part of the remodel, we provided engineering expertise and added a beam to pick up load bearing. We provided cabinetry that was designed and built in our own millwork shop, along with quartz countertops. We also replaced the front entry door and its sidelights and updated the flooring throughout the common areas of the main floor. In the end, the homeowner ended up with an open, airy, and cleanly finished space.
PROJECT TYPE: Kitchen, Main Level
Find out more about this home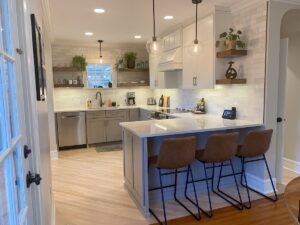 HOME DESCRIPTION: This South Minneapolis kitchen had previously been updated, but it still lacked storage and counter space. We remodeled this space by removing the wall between the kitchen and the dining room, replacing a beam, arching doorways to match existing ones, and reconfiguring the window and door locations. We designed, built, and finished this painted cabinetry in our own in-house millwork shop, and added wood-stained shelves throughout the design for enhanced warmth. We added a ton of storage, functional counter space, and updated finishes, including a finished-in-home hardwood floor, quartz countertops, and a tile backsplash.
PROJECT TYPE: Kitchen
Find out more about this home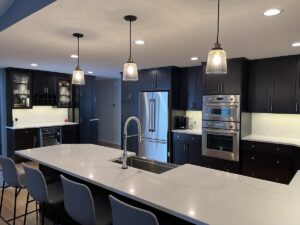 HOME DESCRIPTION: A whole home remodel—this 1950's home needed it all! The plan was to keep a midcentury feel with a little more snap! Two new additions include a large, open family room with a fireplace and a luxury owner's suite with a walk-in closet. We doubled the kitchen size and workspaces and finished with custom cabinets, quartz, and tile. We updated interior hardware, doors, trim, and millwork. All millworks and cabinetry was designed, built, finished, and installed by our own in-house millwork shop. The exterior also received a complete refresh with a stone front, unique door fronts, and new deck. Come check out the stunning colors and textures, too!
PROJECT TYPE: Additions, Bathroom, Kitchen, Main Level, Owners Suite, Whole House
Find out more about this home