In our 30+ years of home remodeling in the Twin Cities, we've seen trends come and go. Many of the most recent trends have some staying power as families change the way they think about their kitchens, bathrooms and living spaces. We've become more relaxed and like to spend time together in larger spaces. At the same time, we value our private spaces – meaning more bathrooms with more amenities are becoming the norm in home remodeling projects.
Kitchen Trends
Great rooms – separate family rooms with vaulted ceilings, are out. Homeowners today are seeking an open kitchen-family room, where a large kitchen opens up into a family room and has no walls separating them. Breakfast bars and kitchen islands are very popular.
Homeowners are also replacing dedicated kitchen desks with "more usable" countertop space and shelving. People are using laptops and mobile devices more frequently and those don't require a dedicated space. Many of our clients are asking for technology stations with lots of outlets in their kitchens – a space for everyone to recharge their electronic gadgets and cellphones.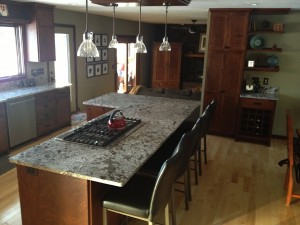 Bathroom Trends
Homeowners today are choosing larger shower spaces with lots of special additions like aromatherapy steam showers. Our clients like the idea of the bathroom, especially a master suite bathroom, functioning as an oasis from the day's stresses.
When it comes to the number of bathrooms in the house, more is almost always better, real estate experts say.  Homes with more bathrooms may not command a higher price, but they will definitely sell faster.
Our remodeling design team has created hundreds of comfortable living spaces and cozy home oases. Contact us today to learn how they can help you create your dream home.