A home addition can be an expensive project. Many homeowners may be sitting on a hidden gold mine, though: the basement. If you have a finished or semi-finished basement, you may have an opportunity to expand your livable space at a much lower cost than an addition.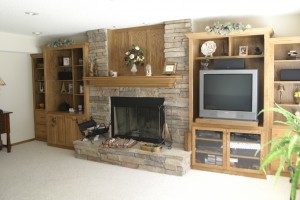 Basement remodeling projects can create cozy, flexible living spaces. A large, open floor plan can accommodate toys and game playing, TV and movie watching, studying and storage. We often create custom built-in cabinets and shelving that add storage and maximize usable space.
Here are a few rules of thumb we follow as we begin a basement remodeling design project: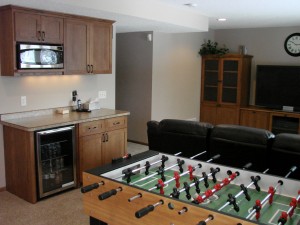 Drawing people into the space by putting the main social area in a place that gets the best natural light.
Locating bedrooms around the perimeter to enable egress window placement.
Setting up the TV area in a darker part of the basement to reduce glare and make it feel more like a theater.
Including an open stairwell to connect the basement with the rest of the home and make it even more inviting.
We work hard connect basements with the rest of the home so all the rooms feel like they are part of a larger whole. Our design team has helped dozens of homeowners create affordable, cozy, flexible basements. Contact us today to learn how we can help add space to your home without breaking the bank.